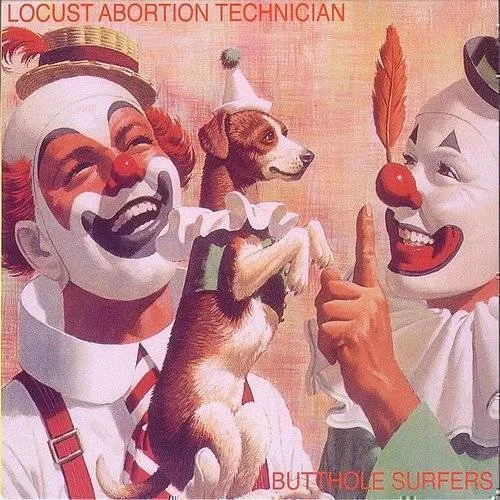 Details

Format: CD
Label: LATINO BUGGER VEIL
Catalog: 5
Rel. Date: 08/03/1999
UPC:

697410000524
Formats and Editions
Reviews:
''Locust Abortion Technician'' is the third full-length studio album by American experimental punk band the Butthole Surfers, released in March 1987. All songs were written and produced by the Butthole Surfers, except for "Kuntz," which was written by an unknown and uncredited Thai artist.
The album was originally released as vinyl on Touch and Go, and was remastered to CD on Latino Buggerveil in 1999.
This is the second of three Surfers albums to feature clown imagery on the cover, the others being 1984's ''Live PCPPEP'' and 1995's ''The Hole Truth... and Nothing Butt''. ''Locust Abortion Technicians front cover illustration of two clowns playing with a dog was painted by Arthur Sarnoff, entitled "Fido and the Clowns". On the reissued digipack, the cover shrank a bit.
This album was listed in 1001 Albums You Must Hear Before You Die. - Wikipedia
back to top